Top 7 Questions About Becoming a Professional Organizer
We frequently receive inquiries and questions from people across the globe about how to become a Professional Organizer, and is it the right career path for them.  Questions range from "How did you get started in this business?" to "How do I get certified?"
While I'm always willing to spend time answering basic inquiries, I usually recommend that you start by reading my book, Mastering The Business of Organizing.  It will answer the majority of your questions.  Then, if you want something more in-depth, I recommend our Fast Track Method Training Program™ as it is fast, affordable, and extremely comprehensive.
To get started, I'll answer some of your burning questions:
What is the trend in the professional organizing business?
Professional Organizing is one of the fastest-growing service businesses today.  People have an abundance of stuff and not enough space or time to declutter.  And, due to the number of television shows like "Hoarders," the topic of organizing has become less taboo.  The number of NAPO members has grown from less than 1,000 in 1995 to approximately 4,000 in 2019.
2. Can I make money working as a Professional Organizer?
Yes, you can!  How much effort and focus you put into your business marketing in the first years, and beyond,  will make the difference in your profitability.
Never, ever, stop marketing!
How do you find clients?
We have the most success in finding clients through speaking, networking, building strategic power partners, and our website. Initially, reach out to everyone you know and talk with them about your new career.  Ask your friends, family, and business connections to listen to others for clues that they need your services and give them explicit instructions or scripts on how to refer you.
How is your Seminar training program different from other Professional Organizer training programs?
Our Fast Track Method™ Training Program is a layered training and education opportunity for you to (1) plan and launch your business as Professional Organizer, (2) have focused and guided work on your business infrastructure, work with a real client, a rewarding ongoing mentor relationship with Anne Blumer, CPO®, and (3) the option to become a Master Professional Organizer™.
With each layer of our training and education program, you will build skills and confidence in working with clients and managing a business. Layer by layer, we will provide you with increased protection that your business will thrive. You will not find another professional organizer training program with our unique layered approach, comprehensiveness, and affordability.
We provide participants a virtual practicum with a client where they can practice their needs assessment approach and practice our successfully proven and trademarked 5 Steps to Organizing® process.  This experience provides participants before/after pictures to get them started with their portfolio.
Participants receive a comprehensive manual containing sought-after information, sample forms, reference materials, and resources.
We are competitively priced for the comprehensiveness, quality, and ongoing support you will receive.
Here is what one participant had to say, "The sessions are jam-packed with important, complete and relevant information for getting your business started shortly. Also, I looked at NAPO's classes, but the Institute for Professional Organizers™ program was going to cover all the areas of getting a professional organizing business started in a short time frame. I could have a complete and comprehensive overview without worrying about having holes in my training. And I could be up and running much faster."  Nicola Wood"
We continue to support our Layer Two participants after their training by phone, Zoom video conference, and e-mail at no cost. Different training programs offer an advanced training program or follow-up support for a substantial fee.
We believe our comprehensive approach will substantially increase the success of a professional organizer's business.
What do I need to do to prepare for the training program?
Self-study materials and online videos (Layer One) are provided for you to complete before arriving for the three-day virtual seminar (Layer Two). Come to the training with enthusiasm, all of your questions, and know what you want to learn!
How many participants are in a training program?
Our Layer Two class size minimum is two.  Our curriculum is designed for small group communication discussions and sharing of information, experiences, and ideas to enhance a participant's learning outcomes.  Additionally, a size smaller or larger would make the hands-on learning experience less meaningful for participants and the client.
Do I need certification to be a Professional Organizer?
I am often asked, "After completing your training course, will I be a Certified Professional Organizer®?" The short answer is no.
The long answer is you will receive a "Certificate of Professional Development and Attendance." Layer Two participants receive the designation of the Institute for Professional Organizers™ certified. However, this does not give you the designation of Certified Professional Organizer® or CPO® (see below).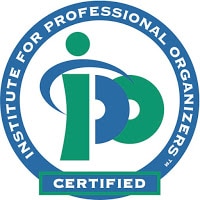 Institute for Professional Organizers™ trained (Layer One) or certified (Layer Two) are credentials and international brands for the professional organizer's business launch through their first years and for those who want comprehensive training and certification on our methodologies, systems, and procedures. Our credentials also inform your clients that you have taken a rigorous training program.
There are specific requirements to become a Certified Professional Organizer® or CPO®, and they are explained in The Board of Certification for Professional Organizers (BCPO) Candidate's Handbook for the Certified Professional Organizer Credential.
When you compare the BCPO exam content with our curriculum, you will find that our training program, in combination with the 1,500 hours of paid client experience, will give you a tremendous amount of information and expertise towards the BCPO certification.
Certification of any profession should never be as basic as completing a seminar or self-study course. To answer the question, "Do I need to be certified?" I'll quote the BCPO handbook, "From an industry perspective, by becoming certified, an organizer will validate his or her knowledge and experience, based on the highest industry, psychometric, and legal standards. From the perspective of an individual business, preparing for the examination is an opportunity to stay current in an increasingly competitive job market. From a personal perspective, sitting for the examination provides a unique opportunity to demonstrate the candidate's self-confidence, professional commitment, and personal initiative in a professional environment governed by rigorous standards. A Certified Professional Organizer® will exemplify the importance of professional standards, and contribute to evolving standards in the industry as a whole."
Are you ready to launch your professional organizing business?  Get started here.
What questions do you have about becoming a Professional Organizer? Post them here.