Fast Track Method™ Training Program
Become Institute for Professional Organizers™ Certified and an Expert in Your Area
Layer Two
Virtual

Group Training
Get Certified
Manage and Grow Your Professional Organizing Business
Plus a Virtual Client Practicum Experience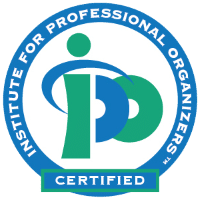 | | | |
| --- | --- | --- |
| February 17-19, 2020 | January 2, 2020 | Completed |
| July 15-17, 2020 | June 1, 2020 | Open |
| October 5-7, 2020 | August 17, 2020 | Open |
For a Limited Time, We Are Offering the Following Discounts
Early Bird $1,497
Now $997
Regular Price $1,997
Now $1,497
Layer One must be completed in its entirety before attending Layer Two.  The virtual training format requires a computer or tablet with strong internet connectivity and Zoom video conferencing capability.
DAY ONE provides you with expert advice and continues your Layer One learning with focused and guided work on your business as a professional organizer:
Determine Business Entity Type and Legal Needs. Your business entity is one of the most critical decisions you will make as a business owner. You will learn about the different business entities and their advantages and disadvantages to help you choose the right one for your situation and goals. You will also learn how to register your business with your state and the federal governments, how to ensure your business and obtain business licenses.
What You Need to Know to be Tax Savvy. You will be guided through the labyrinth of tax details, a small and home business owner needs to comply with and understand.
Brand Creation. Review of your business name, tagline, business look and feel (colors, fonts, and design) and your elevator speech.
Virtual organizing. How it works and how it is different from on-premise organizing.
Client Initial Consultation Preparation. Client process, needs assessment, and organizing plan of action review.
The knowledge and skills you need to become a successful professional organizing business owner

Your completed business plan, financial plan, marketing plan, and business brand sheet

Successful business practices that identify how to manage and grow your business

Step-by-step Business Launch Checklist ensuring you do everything you need to do to be successful

Experience and lessons learned of what it takes to grow and leverage a business

Confidence that only comes from having a systematic approach to working with clients and applying that approach in a client practicum experience

Customizable forms needed for both your business and client work

100 Actions to Magnetize More Clients

Priceless time working along-side an expert who you can ask all your "what wakes you up in the middle of the night" questions

Marketing methods that will cut out months or even years of annoying mistakes and learning curves, because you need to make money immediately

An understanding of how to position your business in the marketplace to attract your ideal client

Instructions on how to clearly communicate your value and how to charge for your valuable services

Organizing skills and techniques to work with a variety of client types

Proven processes and systems to organize others and transfer organizing skills

A relationship with a Certified Professional Organizer and coach who is committed to your success

All you need to become a master of your organizing business
In addition to all of the above, you will receive the following with your Layer Two training:
Early Bird $1,497
Now $997
Regular Price $1,997
Now $1,497